Small accents can really add that touch of pizzazz to your retro kitchen. These don't have to be big changes. Even a few well-placed retro kitchen accessories can make a difference. Think about a 1950's sunburst clock just above an advertising sign from the same decade. Presto, you have a retro effect.
Add Accessories in Small Groupings
Often it's a few little things that can get your retro kitchen theme going. Add a geometric shaped lamp shade in your kitchen. The picture above shows how something that simple, in an otherwise not retro look, can bring about the effect you want.
Small groupings of retro kitchen accessories can be a great way to create your theme. Typically, you want to keep your small groupings in odd numbers, 3 or 5 items. And vary the height. Something large or tall can be the focal point with 2 shorter items surrounding it.
Suggestions for Retro Kitchen Groupings
Coca Cola ads from the 1950's are certainly popular for wall plaques in a retro kitchen. But there's lots of other options for advertising signs. Coffee advertising signs and humorous plaques from diners also make great retro accents.
Don't be afraid to hang other retro items on your walls to create that look. A small shelf that includes diner style ketchup and mustard dispensers and retro salt and pepper shakers can make a fun accent. In the 1950's drive-in movies were popular. The cartoon characters that ran across the screen during intermissions make great additions to your retro kitchen.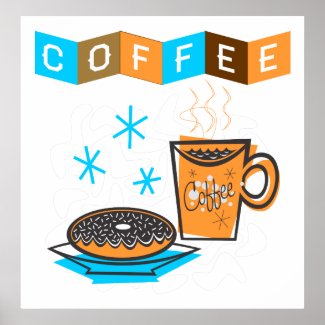 Retro Coffee and Donut Poster
by
TNMgraphics
Find more
matted prints
Other retro kitchen can include anything that was found in the kitchens of the 1950's and 1960's. They included plenty of chrome. Most colors were acceptable as well.
So think about the accessories that you can use to spice up your retro kitchen look. Lots of them all around your kitchen, or just a few placed strategically can make your theme come alive.