So you have decided you want to decorate your kitchen in a retro style, but you need to start somewhere. An easy starting point is a retro wall clock. These are fun and functional accent items to get you going. Add more when you can and before you know it, your kitchen will have a retro look.
Retro Styled Clocks for Your Kitchen
The retro style has it's basis in the mid-century when the world was at peace and women were returning to the home after working during the war time. They were looking for more life in their worlds and that was greatly reflected in the style of their kitchens.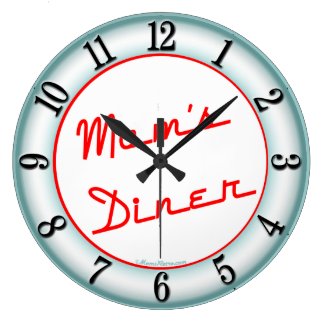 Moms Diner Retro Kitchen Wall Clock
by
momsretro
Available from Zazzle
Click for Details

Infinity Instruments Turquoise Retro 9-1/2-Inch Metal Wall Clock

Available from Amazon
Click for Details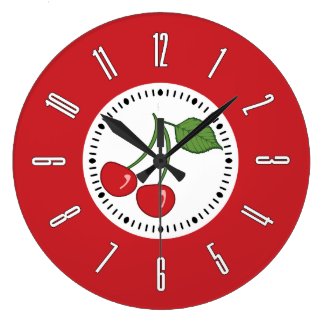 Red Retro Cherry Wallclocks
by
opheliasart
Available from Zazzle
Click for Details
Color Schemes in the Retro Look
For the 1950's and 60's, colors became brighter and more appealing. Turquoise blue was just as popular as pink, lavender and yellow. The silver look of chrome was hugely popular for it's easy to clean surface. Chrome was an accent color in just about every kitchen.
Diners were popular eating spots. So anything that reminds us of a diner works great in a retro kitchen. The color schemes for diners were loaded with pale colors like sea green and light blue and accented heavily with grey, silver and chrome effects. Along with plenty of humorous signs that gave their customers something to look at and read while awaiting their meals.

LexMod Silver Starburst Wall Clock (Retro Modern)

Available from Amazon
Click for Details
Decorating with Retro Wall Clocks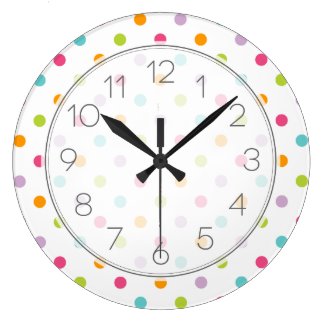 Retro Colorful Polka Dots Wall Clocks
by
jenniferstuartdesign
Available from Zazzle
Click for Details
One of my favorite vignettes on a retro kitchen wall is a grouping of several funny wall signs that surround a retro clock. Placing a small shelf below the wall clock can also create a vignette when you add several accent items to the shelf. Your retro wall clock will naturally be a focal point in the kitchen. So add a little extra decor with something to complement your clock.
Try adding a wall clock in an otherwise unused space, like above kitchen cabinets or over the sink. A clock in the kitchen can be part of your decorating theme while still being a useful item. So pick your favorite retro wall clock to get your kitchen decor going.